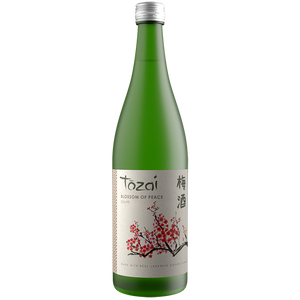 Soaked with local, all-natural aodani plum = perfection.
Tozai sake is soaked in plum juice for over 3 months for a result that is incredibly balanced with tart, juicy acidity on the finish.
SAKE OVERVIEW
Local, all-natural aodani plums are soaked in Tozai sake for over three months resulting in an incredibly balanced sake with tart, juicy acidity on the finish. Plum blossoms are known as "The Flowers of Peace" in Japan and symbolize growth, renewal, and awakening.
TASTING NOTES
Aromas of almond and marzipan followed by plum, apricot, and cherry on the palate. The soft tartness and acidity balance the finish with a slightly sweet smoothness.
EAT WITH
Pulled pork, glazed salmon, or desserts like peach cobbler. Or try it in a cocktail!
TECH INFO
Grade: Plum Sake
Alc: 10.5%
MORE ABOUT THE BREWERY
Tozai represents the bridge between the East, inviting Westerners to enjoy Japanese sake. Approachable for sake lovers and first timers, Tozai takes sake out of the "special occasion" category and makes it an every day drink. Tozai is made in Kyoto, the birthplace of sake, at the Kizakura brewery.