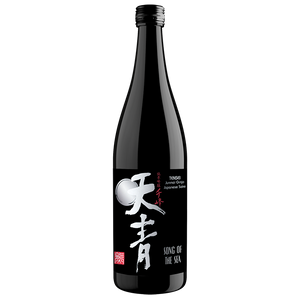 Spirited. Mystic. Zesty. 

Song of the Sea is an ode to the brewery's seaside location in Kanagawa.
SAKE OVERVIEW
A rare opportunity to try sake made with Yeast #9 sourced from the brewery that discovered it, rather than from the National Research Institute of Brewing. The result is lively and intense flavors of saltwater taffy salinity that evokes memories of the beach.
TASTING NOTES
A medley of apple, banana, and melon lead the aromas and carry through on the palate. Saltwater taffy salinity notes add a touch of sweetness and minerality. Intense throughout with a crisp, clean finish.
EAT WITH

Pair with grilled lamb chops, couscous, or paprika chicken.
TECH DETAILS
Serve: Slightly Chilled
Grade: Junmai Ginjo
Polished: 50%
Rice: Yamada Nishiki
Alcohol: 16%
Size: 720ml
MORE ABOUT THE BREWERY
Tensei is a multi-talented brewery defined by an entrepreneurial spirit, an international outlook, and a laid-back surfer atmosphere. The cultured and forward-thinking brewery has a hand in other enterprises as well, including a beer brewery, a Japanese restaurant, an Italian restaurant, a bakery, and an art gallery all on site.