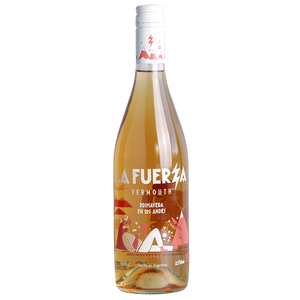 Delicious. Exotic. Beautifully Pink. 
La Fuerza Primavera is made from Torrontes grown in Mendoza infused with 14 different botanicals, herbs & flowers handpicked from the foothills of the Andes Mountains. Effortlessly pink in color from the use of hibiscus flowers.


PRODUCT OVERVIEW
TASTING NOTES
Fresh, floral, and exotic.
COCKTAIL SUGGESTIONS
La Fuerza Primavera is refreshing in a simple spritz with seltzer or tonic water & a slice of grapefruit. Also a wonderful addition to classic cocktails that call for vermouth.
TECH INFO
La Fuerza Primavera is made with no preservatives or added flavors, only locally sourced Torrontes and herbs collected from the Andes.
Where: Mendoza, Argentina
Base: 100% Torrontes
Botanicals: Fennel, hibiscus, violet, lavender, marcela, azhar, wormwood, artemisia mendozana, yarrowes Botanicals
Alcohol: 17%
More About La Fuerza
La Fuerza revitalizes the long history of vermouth in Argentina with a modern and forward-looking twist - made from Mendoza-grown grapes and herbs from the Andes.
Internationally recognized as one of the top Vermouths in the world, made from Argentine wine varietals and over 40 botanicals hand-harvested from the Andes.