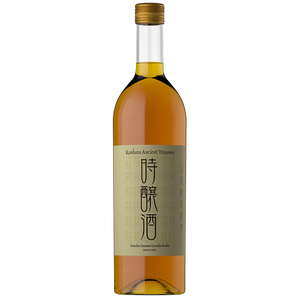 Complex and Umami. Toffee. Sea Salt. Chocolate.
Aged for over 10 years, this sake has a cult following among foodies.
SAKE OVERVIEW
The intense complexity of this sake is achieved through an abundance of koji, yamahai, no dilution, and over ten years of careful aging.
TASTING NOTES
The umami is extremely pronounced on the nose with tasting notes of olive oil, sea salt and toasted sesame.
EAT WITH
Carmelized onions, figs & goat cheese, foie gras or end of meal cup of sake
TECHNICAL DETAILS
Serve: room temperature or warmed
Grade: Yamahi Junmai Genshu Koshu
Polished: 70%
Rice: Yamada Nishiki & Koshi Tanrei
Alcohol: 17.2%
Size: 720ml
MORE ABOUT THE BREWERY
Since 1880, Kaetsu has brewed powerful, bold sake from Japan's most popular brewing region, Niigata, which is otherwise known for producing light, clean sake. The talented husband and wife team lead the brewery to producing memorable, bold sakes.