Rihaku Dance of Discovery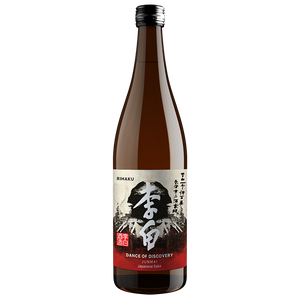 Textured. Smoky. Touch of Sweet.
Brewed with a newly developed rice called Kan no Mai that withstands cold climates and is full of smoky, saline rice flavors - creating a one of a kind flavor profile.
SAKE OVERVIEW
The rice name is a word made of the Japanese characters "Kan," translated to "God," and "Mai," meaning dance or stage. The specific milling rate of 68% employed in this sake results in a unique flavor profile that has hints of smoke, sweetness, and a very clean finish.
TASTING NOTES
Textured and layered, smoky and sweet, with a cleansing acidity at the end. Simply constructed rice notes with malt-like flavor, and dry on the finish thanks to the prominent acidity.
EAT WITH
Yakatori, grilled chicken, sweet potato gnocchi.
TECH INFO
Serve: Slightly Chilled
Grade: Junmai
Polished: 68%
Rice: Kan No Mai
Alcohol: 14.8%
Size: 720ml
MORE ABOUT THE BREWERY
Founded in 1882 in the Shimane prefecture, Rihaku boasts one of the highest average milling rates of all Japanese sake breweries—a testament to its dedication to high quality.