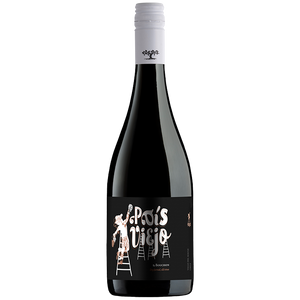 JUICY. LIGHT. HONEST.
Made from over 100 year old vines - the proof is in the name (Viejo = old)
91pts - James Suckling
91pts - Tim Atkin
90pts - The Wine Advocate
WINE OVERVIEW
Pais Viejo ('Old Pais') is a wine with history. Made with Pais grapes from over 100-year-old Gobelet vines planted in the dry-farmed, coastal region of Maule.
TASTING NOTES
Bright cherry color. A very juicy, fresh, light and honest wine with aromas of strawberry, wildflowers and sour cherry.
EAT WITH
Fish, pasta, or on its own & slightly chilled
TECH INFO
These head-trained Pais vines are planted on very old soil of granitic, sandy loam formed by Chile's coastal mountains. Pais Viejo is 100% naturally-vinified using century-old winemaking techniques, including the use of the zaranda (a structure made of sticks to destem the grape clusters). The grapes are hand harvested and fermented with native yeasts in concrete tanks to preserve the wine's authentic expression of terroir.
Where: Maule Valley, Chile
Grape: 100% Pais
Elevation: 650 feet
Age of Vines: 100 years
Alcohol : 12.5%
More about J. Bouchon
J. Bouchon is a family owned winery, with Julio Sr. and his two sons handling most day to day affairs. The are giving Pais a chance by creating blends and leaving it to shine on its own. Pais is originally from Spain, but made its way to Chile by way of Missionaries, so it is often referred to as the '.mission grape'. Bouchon's over 100 year old Pais vines are grown more like a bush than the structured vines we typically see.
Paired Recipe