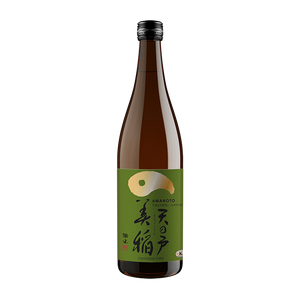 The farm-to-table sake.
Made with only rice, water, and labor from its own prefecture of Akita.
SAKE OVERVIEW
The epitome of the "local" farm-to-table movement, this sake is made only with rice, water, and labor from its own prefecture. Ama No To translates to "Heaven's Door," referring to the prefecture which is at the northernmost tip of Japan. The label image is an icon of good fortune from Amaterasu, the Shinto Sun Goddess who is believed to have brought light to the world and cultivated Japan's first rice fields.
TASTING NOTES
Layers of dried flowers and baking spice give way to savory salinity. Slightly dry and medium-bodied. Clean and focused on the finish to accentuate its rice-like qualities.
EAT WITH

Pork ribs, game birds, or wild mushrooms. Great with pickled or fermented foods.
TECH DETAILS
Serve: Slightly Chilled
Grade: Tokubetsu Junmai
Polished: 55%
Rice: Ginnosei
Alcohol: 16.2%
Size: 720ml
MORE ABOUT THE BREWERY
This brewery makes true "Grower's Sake"—the rice growers also make the sake, creating an intimate synergy with the raw materials. They only use rice from fields close enough to see from the brewery. Toji Moriya-san is a critically acclaimed chef who brews his sake specifically to improve a meal.